BBC Young Musician of the Year, Sheku Kanneh-Mason, joins Sinfonia Viva for New Year's Eve Gala Concert
BBC Young Musician of the Year, Sheku Kanneh-Mason, joins Sinfonia Viva for New Year's Eve Gala Concert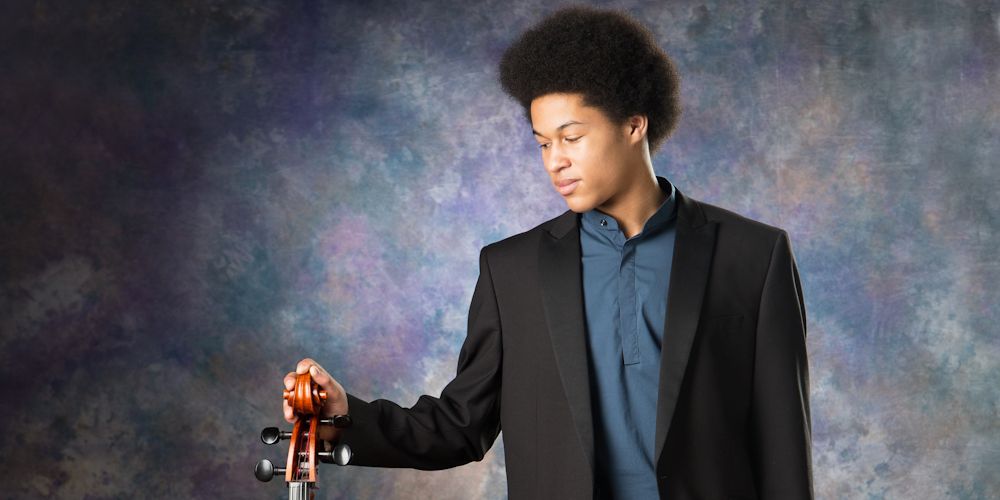 Celebrated East Midlands' orchestra Sinfonia Viva will be joined by the 2016 BBC Young Musician of the Year – Nottingham's own Sheku Kanneh-Mason – for its annual New Year's Eve Gala Concert at the Royal Concert Hall.
17 year old cellist Sheku is a Year 13 pupil at Trinity Catholic School in Nottingham and the Royal Academy of Music.  He won the prestigious annual competition which was held at the Barbican in London in May.
Sheku will perform Dvorak's Rondo for Cello and Orchestra and Saint-Saens' Swan at the early evening New Year's Eve Gala Concert, which is under the baton of Nicholas Kok.
The programme for the Gala Concert has been inspired by the work of William Shakespeare and is likely to be the final event worldwide to mark the 400th anniversary of his death.  The evening starts with a selection of music from Bernstein's West Side Story – a contemporary and well-known story based on Shakespeare's Romeo and Juliet.  Other Shakespeare-inspired pieces include Mendelssohn's Nocturne and Wedding March from Midsummer Night's Dream; Romeo and Juliet Fantasy Overture by Tchaikovsky and Henry V: Overture – The Globehouse by Walton.
More contemporary pieces from films and musicals inspired by Shakespeare's plays range from Porter's Where is the life that late I led? from the musical Kiss Me Kate – based on Taming of the Shrew – and This can't be love from Rodgers and Hart musical The Boy From Syracuse, which took its lead from Comedy of Errors.
The programme finishes with a selection of popular, end-of-year, celebratory music by Strauss and, of course, Auld Lang Syne.
Nicholas Kok, who introduces each piece to the audience, said: "Returning to Nottingham every New Year's Eve is a highlight in all the players' busy schedules and we are particularly delighted to be joined by the fantastic young cellist Sheku Kanneh-Mason.
"He delighted television and radio audiences, and of course the judges, in this year's BBC Young Musician of the Year and we are very much looking forward to performing alongside him to mark the end of what has been a spectacular year for him."
Tickets start from just £15 and the popular 6pm start and 8.15pm finish will leave plenty of time for the audience to continue the celebrations and see in the New Year.
Watch the winning performance from the BBC Young Musician Final