Covid-19 Measures - How We're Keeping Everyone Safe
Covid-19 Measures - How We're Keeping Everyone Safe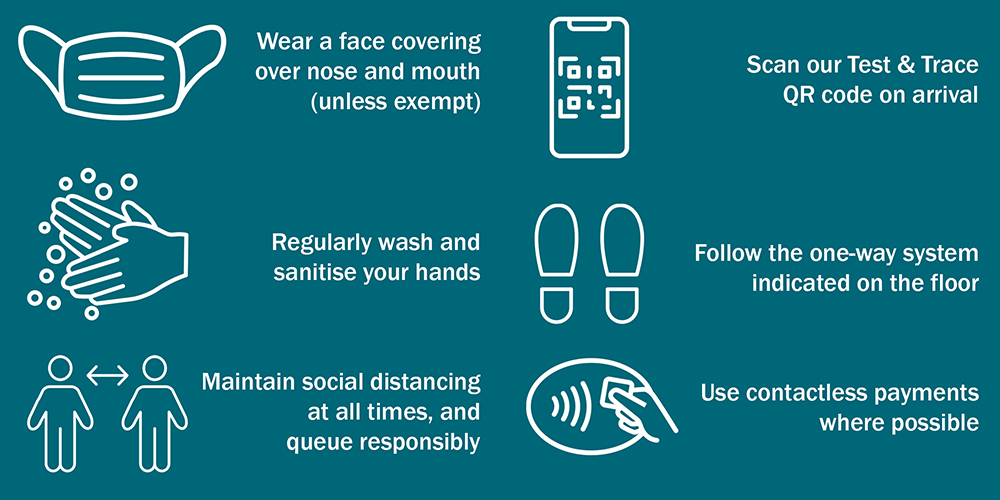 To help keep everyone safe, we've implemented a number of measures throughout the Theatre Royal & Royal Concert Hall, as detailed below.
We hope this information gives you the confidence to book with us knowing that we have made every effort to protect your safety and wellbeing. If you have any questions, please do contact us via our feedback form or give us a call on 0115 989 5555.
We look forward to welcoming you back.
Current Status
We look forward to welcoming you back in a safe and Covid-secure way, once national restrictions are lifted.  This page will be updated accordingly.
Following the most recent government announcement, all events scheduled prior to 17 May have been postponed and we are working on rescheduling them to new dates. Ticket holders will be contacted directly.  If you have any queries, you can find out more here
What Your Visit Will Look Like
Further Information
How to Book
We will be selling e-tickets only for all forthcoming socially distanced events, which you can buy online or over the phone (Box Office 0115 989 5555). These will be emailed to you in advance.  We will scan your tickets on entering the auditorium, either on your mobile device or, if you prefer, a copy you have printed at home.
Whilst social distancing remains in place, tickets will not be available to purchase or collect in person at the venue, or sent out by post. For customers without an email address, please call us on 0115 989 5555 to discuss the options available to you.
The lead booker must ensure that everyone in their party is from the same household or social bubble.
Our socially distanced seating plan offers a range of booking options from one to six seats. Please note that children, including babies under 12 months old, will need to be included within your household group, up to a maximum of six people.
Flexible Booking Policy - For Your Peace of Mind
If you or anyone you live with/in your support bubble displays symptoms associated with Covid-19, or if you are required to self-isolate following Government guidance, please do not visit the Theatre Royal & Royal Concert Hall.
Under these circumstances, please call our Box Office team on 0115 989 5555 to request an exchange or full refund up to 24 hours before the performance you are attending. If the performance you are planning to attend is within the next 24 hours, please call us on 0115 989 5555 to discuss your options with our Box Office team.
If an event is cancelled for any reason, we will be in contact with you to outline your options which will include a full refund.
On Arrival
We will send you specific information on the way you will enter and exit the building, as well as the time you will be asked to arrive. Staff will be on hand to assist, as well as digital and freestanding signage throughout the venue to help guide you.
Test and Trace
If you have a smart phone, please scan our venue's QR code via the NHS COVID-19 app on arrival
As part of the booking process, your details have been recorded in line with the Government's requirements for NHS Test and Trace. You can find more details on our data privacy policy click here.
Temperature Checks
We will take your temperature as you enter the venue. If you have a temperature over 37.8C you will be unable to attend the performance. If this happens, you will be offered the opportunity to either receive a full refund or to exchange for an alternate socially distanced performance.
Hand Sanitiser and Hand Washing
You will be asked to sanitise your hands on arrival. There are hand sanitiser stations and hand washing facilities throughout the venue.
Face Coverings
You are required to wear a face covering at all times during your visit if you are aged 11 or over, unless you are exempt.
All face coverings must cover the nose and mouth and fit securely around the side of the face. A face visor or shield is only suitable for customers who are exempt from wearing a face covering.
Face coverings should only be removed temporarily when eating or drinking, which should only be done when you are seated.
Social Distancing
Whilst social distancing remains in place the Theatre Royal & Royal Concert Hall's performances will run straight through without an interval.
The number of visitors to each performance has been reduced to no more than 30% of the venue's normal capacity.
One-way routes and safe distancing guidelines are in place throughout the venue.
In a limited number of areas in the auditorium you may have to briefly pass other audience members along the row in order to access your seats. Please ensure that your face covering remains on and that you face forwards as you move along your row.
In-seat Service
We are offering in-seat ordering and delivery service of confectionery and drinks. We only accept card or contactless payments.
Cloakroom
To limit physical contact, our cloakroom is currently unavailable.  Bags and items must be carried with you, so please try to bring a minimum amount of baggage to the venue.
Toilets
Toilets remain open with enhanced cleaning regimes. Some sinks and urinals may be taken out of use to maintain social distancing.
A toilet queue management system will be in place for your safety and comfort.
Our new Changing Places toilet facility, specifically designed for customers with more complex access needs, is located on Level 0 in the Royal Concert Hall. Please speak to a member of staff should you wish to use it.
Lifts
Lift access is available. We are limiting numbers to one household group per lift journey.
Access to some of our lifts is controlled, so please ask a member of staff if you wish to use these.
Enhanced Cleaning
Enhanced cleaning will take place throughout the day. This will focus on high frequency touch-points such as hand rails, door handles and barriers.
PPE & Training
A Risk Assessment has been carried out in line with Government guidelines. You can view it here
We are operating in line with the Government Performing Arts Guidance for venue operators, a link to their Covid Secure Statement is here
Personal protective equipment (PPE) has been introduced for our team, including face coverings.
To ensure everyone's safety, our team has taken part in Covid Awareness training within the venue.