Student Charity Challenge To Sit On Every Seat
Student Charity Challenge To Sit On Every Seat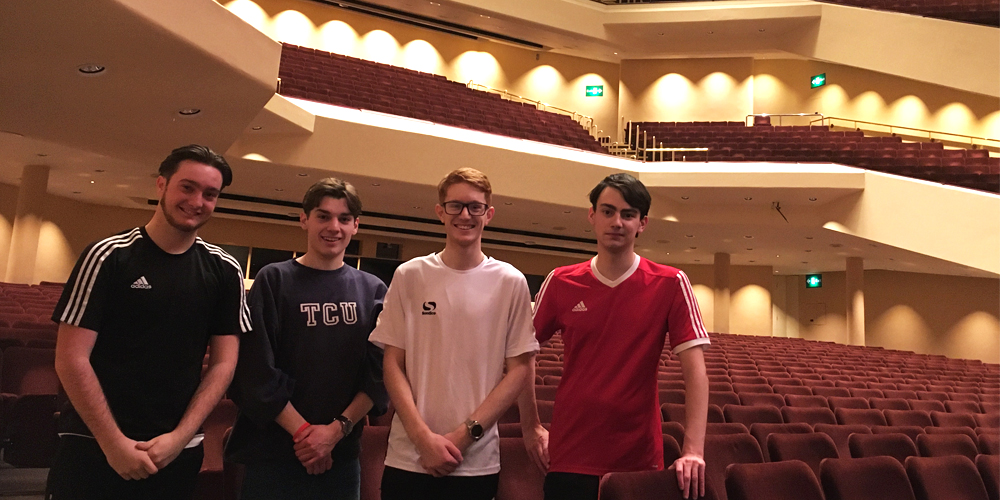 Four Nottingham Trent University students visited our venues today to sit on every seat in both the Royal Concert Hall and Theatre Royal to raise money for mental health charity, Mind.
Matt Lee (18), Iwan Hughes (18), James Gornall (19) and Luke Williams (19) met playing in an intramural five-a-side football competition. Together they decided to undertake the ambitious challenge of sitting on every seat at the Theatre Royal and Concert Hall, plus Notts County's football stadium at Meadow Lane – a combined total of 23,526 seats!
The quartet, who are raising money for mental health charity Mind, hope to raise over £300 before participating in their main fundraising event – a jailbreak event hosted by the Nottingham Trent University Student Union in March. In what is set to be the University's inaugural jailbreak competition, students are challenged with getting as far away from the university's campus without spending any money, all in the name of charity.
Matt, 19, a journalism student, hopes that they will be able to exceed their initial fundraising target in order to help provide support and advice for anyone experiencing mental health problems, "Problems in mental health are becoming a growing issue both in students and on a national scale. Mind helps the one in four people in the UK that experience a mental health problem every year. The money raised will fund their vital work including the Mind Infoline, advice services and the campaigning Mind does."
Together the students sat on all the seats on every level of the Theatre Royal (1,186 seats) and the Royal Concert Hall (2,497) in just under 45 minutes.
Presenters from the Breakfast Show on BBC Radio Nottingham joined the students live on air and even helped out with the challenge by sitting on a few rows of seats themselves.
To find out more and support the student's seat challenge and jailbreak, please visit www.justgiving.com/fundraising to donate.