Fee-Fi-Fo-Fum I smell the blood of a Pantomime Launch!
Fee-Fi-Fo-Fum I smell the blood of a Pantomime Launch!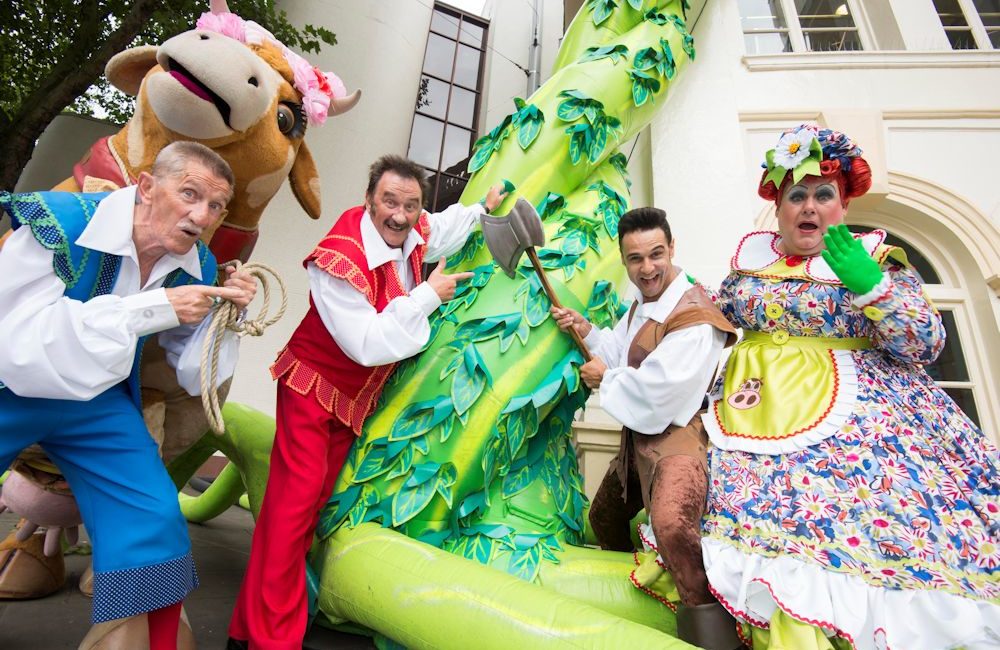 As you may have already noticed, partially thanks to the giant beanstalk bursting through our front windows last Monday, we have officially launched this year's pantomime: Jack and the Beanstalk! It was a day of beans and cows and that Theatre Royal Panto magic.
Leading the cast for this year's giant pantomime spectacular will be the legendary comedy-duo The Chuckle Brothers, Benidorm star Tony Maudsley, and The X Factor quarter-finalist Chico. Each and every one of them was at the top of their game as they worked their way through our trailer (which will be arriving online in due course), made a splash on the stage with Sam and Amy from GEM, and had their photos taken with that giant beanstalk.
The Chuckle Brothers, who will play Jack's brothers 'Paul and Barry Trot', are known to generations of children for their popular prime-time children's television show ChuckleVision, of which more than 290 episodes were made. The series proved to be so successful that in 2008, BAFTA presented Paul and Barry with an award for 'services to British children's television' and they haven't stopped since. They are delighted to be returning to the Theatre Royal after 15 years away!
Benidorm's hairdresser extraordinaire is taking a break from the salon as Tony Maudsley makes his debut as a panto dame in Nottingham this Christmas. Tony has been a series regular in the award-winning comedy since 2011 and he's also been seen in Sky Living's The Spa and ITV's Northern Lights. And if that's not enough, Tony even starred in the musical Hairspray earlier this year as Tracey's mother Edna Turnblad, so he should be more than ready for the wonderful Dame Trot.
Joining the cast in the title role of Jack Trot is The X Factor's Chico, who became a household name after reaching the quarter-finals on the show's second series. Not content with knocking Madonna off the top of the UK chart with his hit Chico Time, he also swapped singing for skating and captivated the nation with his spectacular routines and managed to reach the final of ITV1's Dancing on Ice. Since then he has appeared on numerous television shows and in several pantomimes, winning rave reviews for his performances.
Throughout the event, the cast had some lovely interviews with the Nottingham Post  and BBC Radio Nottingham's Breakfast Show  (Can be heard at approx. 14min30 to 15min15 and 1hr52min40 to 1hr57min40), as well as with Notts TV which you can watch below.
Interview takes place at approx.. 16min45 to 21min
To really hit home what a spectacular panto this is shaping up to be, we made sure our Pantomime Cow, Daisy, made an appearance. She had a wonderful time meeting and greeting the people who happened to pop into the box office in the morning. Then, in spite of the great difficulty of getting to the Dress Circle where the main event was taking place as cows are generally not meant to fit into lifts, Daisy said hello to the press and members before the official opening took place. We can't wait to welcome Daisy back this Christmas as she was an absolute delight to work with.
There are officially 82 days left until Jack and the Beanstalk bursts into the Theatre Royal Nottingham this Christmas and we'll keep you up to date with more information as the countdown continues. The pantomime will run from Saturday 10 December 2016 to Sunday 15 January 2017. Tickets with prices ranging from £17 – £34.50 are available from www.trch.co.uk or our Box Office on 0115 989 5555.
Follow all the Jack and the Beanstalk news and updates on social media @RoyalNottingham using #trchpanto!