Joining the Rebellion... Local Community Actors to Take Part in RSC's Henry VI: Rebellion
Joining the Rebellion... Local Community Actors to Take Part in RSC's Henry VI: Rebellion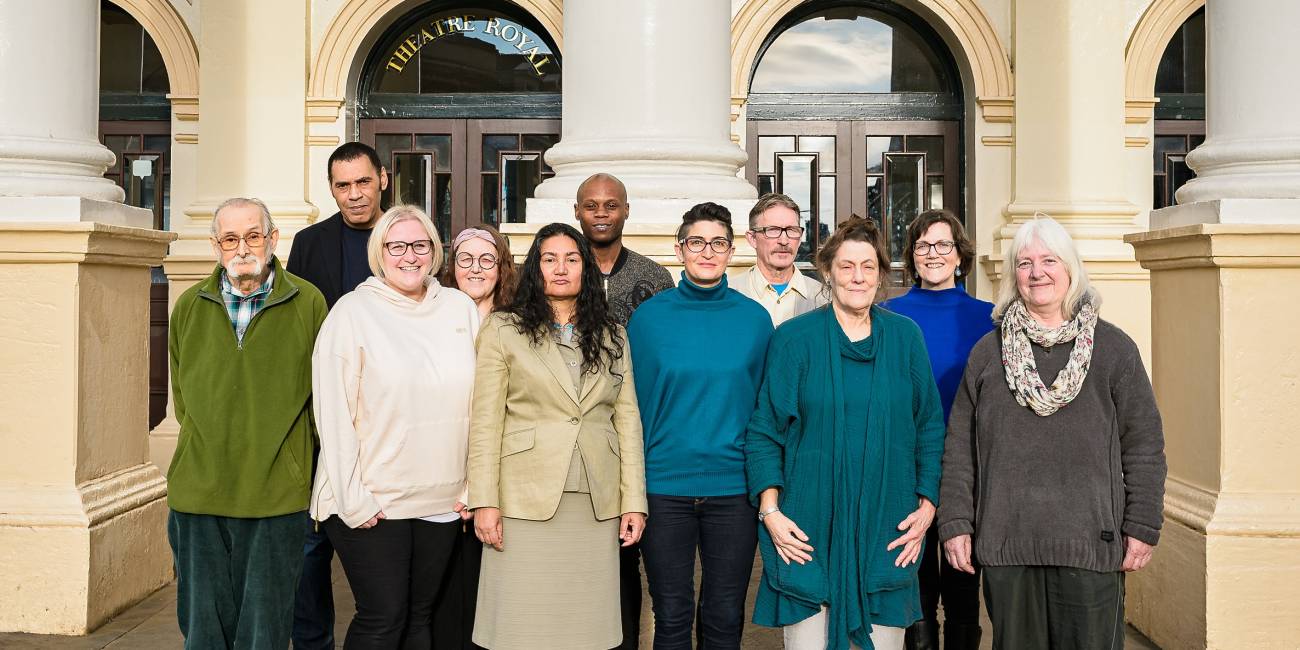 Full casting has been announced for the RSC production of Henry VI: Rebellion, including 12 adults from the local Nottingham community and a local member of the RSC's young acting company.
Casting has been announced for the Royal Shakespeare Company's (RSC) forthcoming production of Henry VI: Rebellion running in the Royal Shakespeare Theatre, Stratford-upon-Avon between 1 April and 28 May 2022.
As part of the RSC's commitment to be a theatre company for everyone, Henry VI: Rebellion will include a cast of 120 people, including professional actors, adults from community groups from six English towns and cities, and members of the RSC's young acting company. This includes including 12 adults and one young person from Nottingham: Neil Brocklehurst, Julieanne Ford, Gavin Gordon, Anne Jennings, Yasmin Khan, Sally Maddison, Kathryn McAuley, John Merchant, Paul Robinson, Penny Shields, Diana Sule and Becky Valentine, plus Harli, aged 16.
The adults are part of Shakespeare Nation, a community participation programme run by the RSC and its partner theatres, aimed at engaging with people who have little or no experience of Shakespeare, either as a theatre-goer or performer.  Initially they will rehearse at the Theatre Royal & Royal Concert Hall Nottingham – before taking to the Royal Shakespeare Theatre stage from April, appearing in around 4 performances.
Through their involvement in Shakespeare Nation and Henry VI: Rebellion, the hope is that they will develop a passion and enthusiasm for theatre and Shakespeare, and build their confidence and self-esteem. Some of the groups also include local Shakespeare Champions, who will work with the other participants to achieve these aims.
The adults will play the roles of working people who take part in the rebellion led by the character of Jack Cade against Henry VI, and townsfolk in a scene where Henry VI is out hunting.
They will be joined by 21 young people, split into three groups, from the RSC's young acting company, Next Generation Act, including Harli (16) from Nottingham.  Aged between 13-17 the young people are drawn from the RSC's nationwide network of 222 Associate Schools, all with a talent for acting but from backgrounds that might restrict their chances of getting into the profession.
These young actors will play tradespeople and apprentices bringing their complaints to the King and court. They will also take part in the previously mentioned rebellion scene, led by Jack Cade. They will take part in different performances during the production's run.
Following their previous collaboration on the King & Country cycle of plays, and having most recently worked together to co-direct the Henry VI Part One: Open Rehearsal Project, directors Gregory Doran and Owen Horsley reunite to continue their journey through the final two parts of the Henry VI trilogy. Henry VI: Rebellion is directed by both Greg and Owen, and Wars of the Roses (11 April to 4 June 2022, inspired by Henry VI Part Three) is directed by Owen.
HENRY VI: REBELLION, 1 April-28 May 2022
Directed by Gregory Doran and Owen Horsley 
Henry VI: Rebellion, a fresh new take on Henry VI: Part Two, hurtles through one of the most turbulent periods in English history, asking the question: can the people ever really decide their own future?
This play has the most characters of any Shakespeare play, and this production will feature, in total, a cast of 120 people.  25 professional actors (who will also appear in Wars of the Roses), including nine recent drama school graduates, will be joined by 95 members of the Royal Shakespeare Community gathered from across England: 74 adults from Blackpool, Bradford, Canterbury, Cornwall, Norwich and Nottingham who are part of the RSC's Shakespeare Nation community participation programme, and 21 young performers aged 13-17 from the RSC's Next Generation Act young acting company.
At each performance one of the six regional Shakespeare Nation groups and one of three Next Generation Act groups will perform alongside the professional acting company.
Owen Horsley, director, said: "Out of the 37 plays in the canon Henry VI Part Two – or as we are calling it, Henry VI: Rebellion – has more characters than any other play. There are 85 characters on the cast list, which may explain why these plays are rarely done. One of the reasons for this wide array of characters is a series of scenes that Shakespeare writes concerning the people of England, who in various ways interact with the royal family.
"This gave us an idea! For many years the RSC has built incredible relationships across the UK with partner theatres through Shakespeare Nation and our youth programme, Next Generation Act. After 18 months of developing these links online this production seemed the perfect opportunity to be ambitious. So, for the people of England, we have cast the people of England. This is an extremely exciting project as it allows this history play, written over 400 years ago, to respond directly to the state of the nation – and at points put over 50 people on the RSC stage.
"Another drive that is very close to the heart of the RSC is the training of young actors as they enter the industry. Over the last two years recent graduates have suffered immensely with classes and productions being taken online and/or they have entered an industry on pause. For these productions we met with over 100 graduates from across the country to deliver workshops and fight training, and from this have cast nine graduates into our company of 26 for Henry VI: Rebellion and Wars of the Roses."
Mark Quartley and Mariah Gale return to the RSC
Following their appearance in the Henry VI Part One Open Rehearsal Project, Mark Quartley and RSC Associate Artist, Mariah Gale will return to play, respectively, Henry VI and Margaret in both Henry VI: Rebellion and Wars of the Roses.
Mark played Ariel in the RSC's live motion-capture production of The Tempest in 2016, Other RSC credits include Maydays, Measure for Measure and Written on the Heart.
Mariah last appeared at the RSC playing Wendy in the 2015 production of Wendy and Peter Pan. Other RSC credits include Morte D'Arthur, The Comedy of Errors, As You Like It, Love's Labour's Lost, Hamlet, A Midsummer Night's Dream, Julius Caesar and The Tempest.
The professional cast for Henry VI: Rebellion includes: Oliver Alvin-Wilson (York), Lucy Benjamin (Eleanor, Duchess of Gloucester), Richard Cant (Gloucester/Lord Saye), Daniel J Carver (Clifford/Horner), Angelina Chudi (Hume), Paola Dionisotti (Winchester/Humphrey), Felixe Forde (Bevis), Mariah Gale (Margaret), Ashley D Gayle (Smith), Conor Glean (Dick), Ben Hall (Suffolk), Jack Humphrey (Clerk), Nicholas Karimi (Warwick), Al Maxwell (Bolingbroke/ Holland), Georgia-Mae Myers (Margaret Jourdain), Peter Moreton (Salisbury), Sophia Papadopoulos (Suffolk's Messenger), Mark Quartley (Henry VI), Aaron Sidwell (Jack Cade), Yasmin Taheri (Neighbour), John Tate (Captain/Stafford), Ibraheem Toure (Whitmore), Emma Tracey (Spirit), Daniel Ward (Buckingham) and Benjamin Westerby (Somerset).
Recent drama school graduates make their RSC debut
Henry VI: Rebellion and Wars of the Roses will feature nine actors who graduated from drama school in 2020 or 2021. The RSC is passionate about encouraging new acting talent to engage with classical work and the Company, and often casts graduating actors in its productions.  However the RSC recognised that those leaving in 2020 and 2021 were working in a period like no other, with the pandemic creating particular difficulties for them both during their training and by entering a deeply wounded industry.
Consequently the RSC decided to ringfence nine of the 26 roles in these productions for new graduates. Following the RSC's casting team's continual engagement with the work of these students throughout the last two years, over 165 graduates were invited to a series of text and fight workshops. A smaller group then attended one to one auditions, and the nine graduates from 2020/2021 who make their RSC debuts are:
Felixe Forde (Royal Conservatoire of Scotland, 2020), Jack Humphrey (National Youth Theatre 2021), Al Maxwell (Bristol Old Vic Theatre School, 2020), Georgia-Mae Myers (Royal Central School of Speech and Drama 2021), Sophia Papadopoulos (LAMDA, 2021), John Tate (Royal Welsh College of Music and Drama 2020), Ibraheem Toure (East 15, 2021), Emma Tracey (Royal Central School of Speech and Drama, 2020) and Benjamin Westerby (RADA, 2021).