Royal Concert Hall to host Captions Speak Louder foyer exhibition
Royal Concert Hall to host Captions Speak Louder foyer exhibition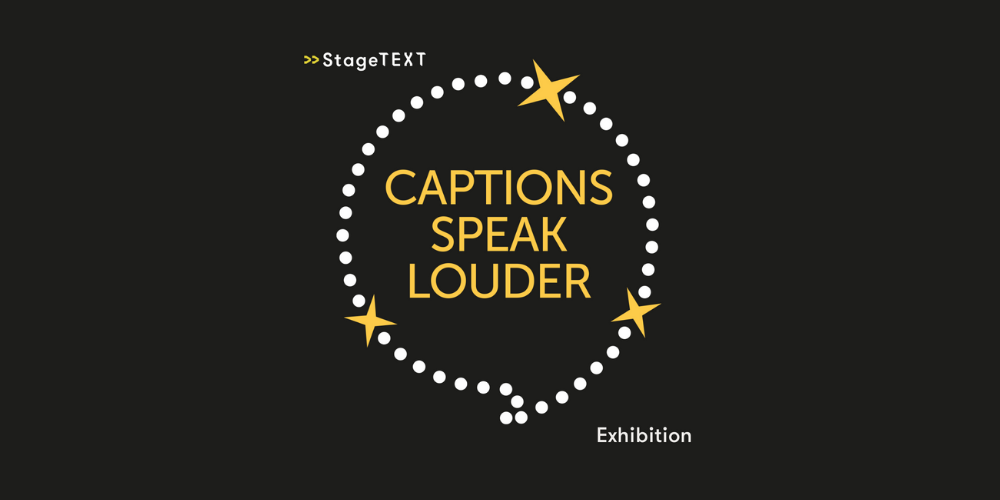 The world's first exhibition on open captioning in the arts will be on display at the Royal Concert Hall from 17 to 31 May.
Created by Stagetext, the deaf-led captioning charity, 'Captions Speak Louder' guides you through the history of theatre captioning. Theatre captioning makes performances accessible to deaf, deafened and hard of hearing audiences. It is similar to subtitling on TV or film, but the captions are displayed on screens at the front of the theatre.
The free exhibition explores this history through the stories and memories of the users, the charity's founders, and the staff and supporters who worked to make the arts accessible to deaf, deafened and hard of hearing people over the last 21 years.
Emily Malen, Front of House Manager for the Theatre Royal & Royal Concert Hall Nottingham, said: "Attending plays and concerts can contribute significantly to maintaining people's independence and reduce social isolation. We are proud to offer a varied programme of captioned performances throughout the year, enabling people to explore and engage with the arts. Working with Stagetext has allowed us to provide a high quality captioned service, and we often find that customers comment at the end of the show on how helpful this feature was, even if they hadn't booked for that purpose! We are delighted to be able to share this fascinating exhibition with our audiences."
The exhibition shows how captions were brought to the UK and spread to venues across the country, how Stagetext was founded as a charity, the evolution and art of captioning, and how access to digital events brought culture to our living rooms throughout the Covid-19 pandemic.
Liz Hilder, Stagetext's Acting Chief Executive, said: "We're delighted to be working with the Theatre Royal & Royal Concert Hall Nottingham to share the story of captioning.
"Come along and find out how captions began, and how they continue to open up access to theatre and culture today."
The exhibition made its debut at The Barbican Centre in November 2021 and is now touring the UK throughout 2022.
You can visit the online section of the exhibition and see the other tour locations by clicking here
Upcoming Captioned Performances at Theatre Royal & Royal Concert Hall Nottingham:
Dreamgirls – Captioned Performance, Saturday 28 May 2022 2:30pm
Waitress – Captioned Performance, Thursday 21 July 2022, 7.30pm
The Book of Mormon – Captioned Performance, Saturday 27 August 2022 2.30pm
Nottingham Operatic Society: The Hunchback of Notre Dame – Captioned Performance, Thursday 27 October 2022, 7.30pm
White Christmas – Captioned Performance, Saturday 26 November 2022, 2.30pm
Find out more about the venue's assisted performances here Assisted Performances | Theatre Royal and Royal Concert Hall Nottingham (trch.co.uk)