Royal Concert Hall's music manager dedicates prestigious classical music Industry award to Nottingham audiences
Royal Concert Hall's music manager dedicates prestigious classical music Industry award to Nottingham audiences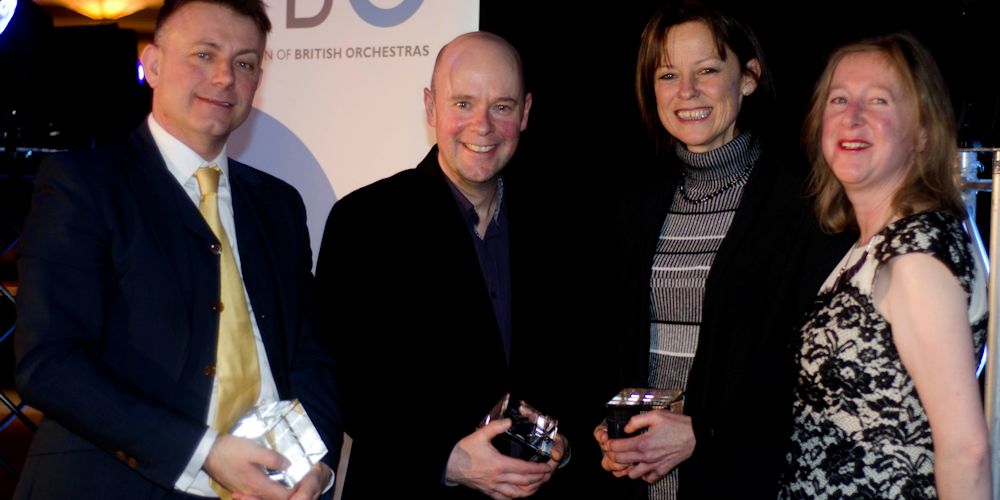 Neil Bennison, winner of the Concert Hall Manager of the Year Award at the annual Association of British Orchestras (ABO) conference, dedicates his award to Nottingham Classics concert-goers for their unstinting support.
The sixth annual ABO/Rhinegold Awards took place last night in Bournemouth, shining the spotlight on the managers who contribute so much to the success of the UK's classical music-making behind the scenes. The awards were presented at the annual ABO conference dinner in Bournemouth Pavilion by Anne-Marie Minhall, Classic FM presenter. Amongst the winners was the Royal Concert Hall Nottingham's own Music Programme Manager, Neil Bennison, who was awarded the Concert Hall Manager of the Year.
Following on from the yesterday evening's celebrations, Neil Bennison said of the award: "I'm honoured – and a bit amazed frankly – to have received this award on behalf of the Theatre Royal & Royal Concert Hall.
Over the last ten years we've had some success in building an audience for Nottingham Classics, to the point where the series is now a net contributor to the venue's finances. We're blessed to have a hall that makes concert-going a huge pleasure, and the partnerships we have with our visiting orchestras have allowed Nottingham Classics to thrive in challenging times.
But, most importantly, we have a fabulously supportive audience. They really stepped up for us in 2011 when we lost our dedicated subsidy for Nottingham Classics. When the call went out, they came in greater numbers, got actively involved in our audience development, and helped to drive hundreds of extra ticket sales every season.
It's really to the concert-goers of Nottingham, for their unstinting and often deafening support, that I'd like to dedicate the award."
Neil Bennison joined the team at Nottingham's Theatre Royal & Royal Concert Hall as Music Programme Manager in 2008.  Since that time he has gradually and tirelessly built up relationships with orchestras and audiences to the point that the people of Nottingham have no reason to envy larger British cities with their own symphony orchestras. A Hallé residency is complemented by visits from the Philharmonia, BBC Symphony Orchestra, Royal Northern Sinfonia, City of Birmingham Symphony Orchestra, London Philharmonic Orchestra, BBC Philharmonic, Royal Liverpool Philharmonic Orchestra, Orchestra of the Age of Enlightenment, Czech Philharmonic, Moscow Philharmonic and Dresden Philharmonic Orchestras.
Crucially, this hasn't been achieved in the context of lavish public funding – instead, Bennison has made Nottingham Classics financially self-sufficient, with the 2015/16 season achieving a record breaking average attendance of 1,800, which represents 72% capacity of the Royal Concert Hall. 
Innovative season ticket packages, commuter concerts, family participation projects have all contributed to audience figures and outreach. Meanwhile, the informal 'After Hours' series, run in partnership with Orchestras Live with the dual purpose of engaging younger audiences and promoting contemporary music, took its first steps outside the Royal Concert Hall in 2016 with the London Sinfonietta's 'Masters of Minimalism' at Nottingham Contemporary, the city's contemporary art gallery – a concert which sold out to a largely new audience.
Neil Bennison's nomination identified 'a success story of a professional arts manager who combines commercial rigour with artistic ambition in a way that is rare, distinctive and a beacon for others to follow'. The ABO/Rhinegold judges enthusiastically agreed.
July 8, 2016
Each year we bring the world's greatest orchestras, conductors and soloists to the city to perform a rich programme of classics, concertos and orchestral showpieces. The Royal Concert Hall has an incredible acoustic quality, so if you've never heard a live orchestra before then the Royal Concert Hall is a great place to start.
Read More