Nottingham's first Film Music Festival
Nottingham's first Film Music Festival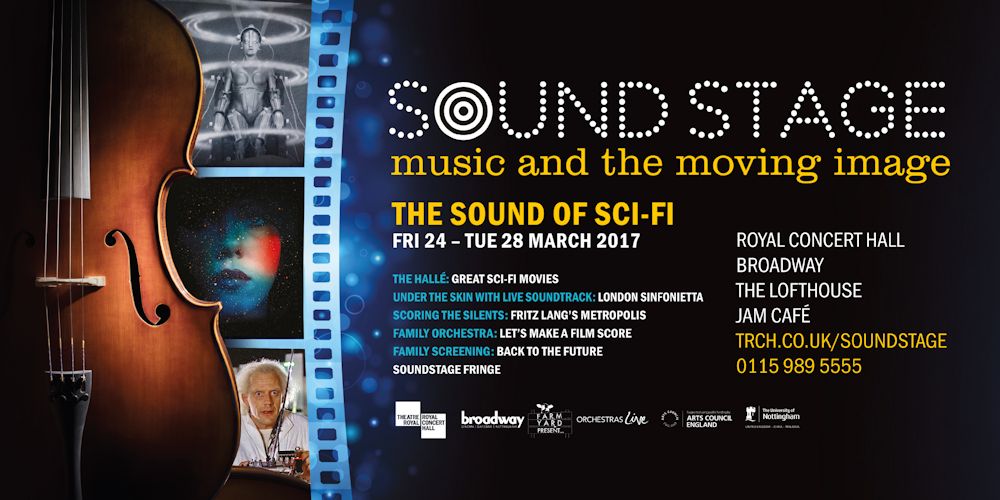 Soundstage
Music and the Moving image
24 – 28 March
What would great movies be without their evocative soundtracks? From the heroic blaze of trumpets in the opening titles of Star Wars to the stabbing strings of Hitchcock's Psycho, composers' scores can set the scene as vividly as any well-framed shot.
SOUNDSTAGE gives you the chance to immerse yourself in the best of film music. Our theme for this jam-packed weekend of music and the moving image is Sci-Fi, and includes events across the city. Here's what's on:
Friday 24 March, 9pm – 2pm
Soundstage Fringe: Deli and Deli DJs
Jam Café, 12 Heathcote Street, Nottingham NG1 3AA
An evening of linear and improvisational, Jazz fusing influences from across the galaxies, beamed aboard by Deli, arguably Nottinghamshire's most creative Jazz outfit.
Saturday 25 March, 1.30pm
Let's make a Film Score!
Le voyage dans la lune (Georges Méliès 1902)
Screen 1, Broadway, 14-18 Broad St, Nottingham NG1 3AL
Join the Nottinghamshire Family Orchestra and create a new score to Georges Meliès's pioneering silent film under the guidance of composer Richard Davis. You'll then give a public performance of the score as the live soundtrack to Le voyage dans la lune before the screening of Back to the Future.

Saturday 25 March, 2pm
Screen 1, Broadway
Family Matinee: Back to the Future
Screen 1, Broadway, 14-18 Broad St, Nottingham NG1 3AL
Join Marty McFly, as he drives a plutonium-powered DeLorean "time machine"  back to 1955, where he has to sort out his teenage mum and dad's love life in order to return to 1985.
Saturday 25 March, 7.30pm
The Hallé: Great Sci-Fi Movies
Royal Concert Hall, Theatre Square, Nottingham, NG1 5ND
Journey beyond the final frontier in this spectacular musical journey through time and space. This performance by the world renowned Hallé Orchestra assembles the biggest fleet of blockbuster scores this side of the Milky Way.
Saturday 25 March, 9.30pm – midnight
Soundstage Fringe: 8MM Orchestra and Three Body Trio (support)
The Lofthouse, 35 Warser Gate, Nottingham NG1 1NU
Maths Rock, Space Rock, Fuzz, Distortion and intergalactic melodic sounds from stellar Nottingham 5-piece, 8MM Orchestra.  Experimental music that will echo around your universe for months!
Support from Three Body Trio, sailing between orbits, intersecting exploration and meditation.  On earth they can be found navigating through deep improvisations, communicating with sound artefacts and searching for remote points of synchronicity.
Sunday 26 March, 1pm (introductory talk) and 2.15pm (screening)
The Sound of Silents: Fritz Lang's Metropolis
Screen 2, Broadway, 14-18 Broad St, Nottingham NG1 3AL
Professor Mervyn Cooke, a world leading authority on film music, presents this introduction to Lang's masterpiece and the different responses it has provoked in composers and producers. Two key scenes from the film will also be given new scores by University of Nottingham composition students to show how different scoring treatments can affect the audience's response.
Sunday 26 March, 7pm
Under the Skin: Film Screening with live score by London Sinfonietta (15)*
Royal Concert Hall, Theatre Square, Nottingham, NG1 5ND
This performance offers the unique opportunity to experience the movie with Levi's mesmerising score performed live by the world renowned London Sinfonietta.
Under the Skin is being screened by arrangement with STUDIOCANAL
* Please note that Under the Skin includes nudity and some scenes of a sexual and violent nature.
Tuesday 28 March, 8.30pm
Film Quiz Night – Sci-Fi movies
Broadway Bar, 14-18 Broad St, Nottingham NG1 3AL
Test your knowledge of film music, sci-fi movies and the latest releases in this post-festival quiz with Broadway's resident quizmaster Colin Shanks.