Students from Bilborough to appear in the RSC's Romeo and Juliet
Students from Bilborough to appear in the RSC's Romeo and Juliet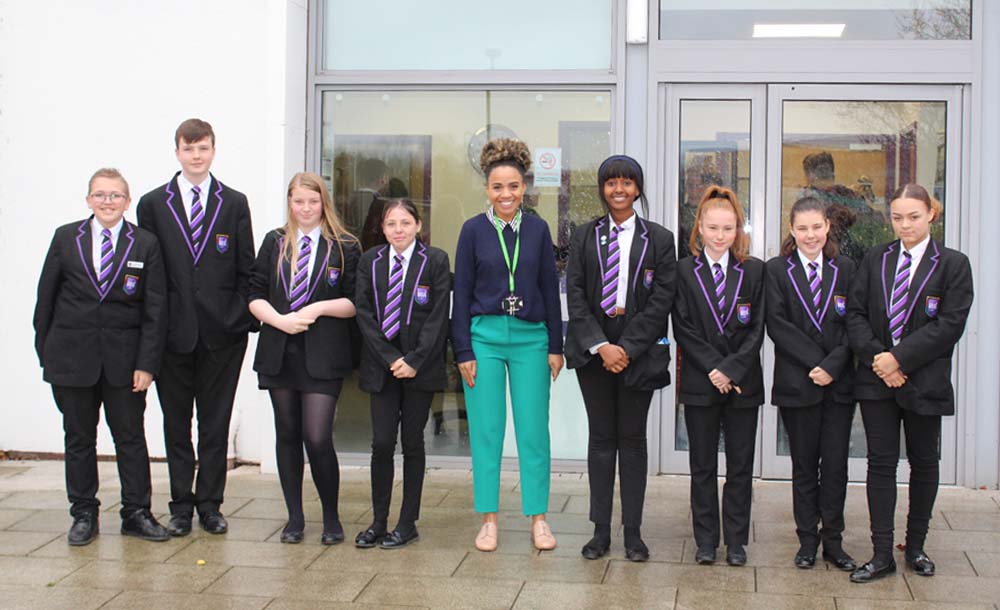 Eight young people from Bluecoat Beechdale Academy in Bilborough will join the professional cast in the Royal Shakespeare Company's forthcoming production of Romeo and Juliet which visits the Theatre Royal Nottingham between Tuesday 19 and Saturday 23 February.
Bluecoat Beechdale Academy is part of the RSC's Associate Schools programme, a partnership between the RSC and regional theatres, including the Theatre Royal Nottingham. In two teams of four, the young people, aged between 14-15, will share the role of the Chorus with the RSC professional cast, with each team taking part in 3 or 4 performances.
The young people taking parts are Shanyce Hodge (14), Lisa Kimani (14), Karina Bierley (14), Sinead Willbye (14), Hollie Larcombe (14), Alaska Puglsey (14), Kane Smith (14), and Joseph Leverton (15).
Erica Whyman, the production's director, said: "We were bowled over by the impact our tour of A Midsummer's Night's Dream: A Play for the Nation had on the young people who took part and those who came to watch as we traversed the UK. I want to build on that hugely positive experience, as we stage Romeo and Juliet, opening up a dialogue with young people in schools in ways we have never before been able to do. By inviting these young people to join us on stage I want to celebrate the diverse talent of the UK and highlight the revolutionary heart of this most timeless love story."
Robin Belfield, RSC Young People's Performance Developer, said: "We worked with the Theatre Royal Nottingham and associate schools to choose the young people to take part in this exciting project.  We were looking for young people who have a passion for theatre, enjoy the challenge of performing Shakespeare, and are able work collaboratively within a company of actors."
Zoe Ambrose, Teacher of Drama and Lead Teacher of the RSC Associate Schools' Programme at Bluecoat Beechdale Academy, said: "I am extremely delighted that our students have been given this opportunity of a life time. The connections we have built with the RSC over the past year have been invaluable. The students are thrilled at the prospect of performing alongside professional RSC actors on the Theatre Royal stage. I have every confidence that they will do themselves and the academy proud."
The young people will take part in two rehearsals with members of the RSC's Education team and the Romeo and Juliet creative team. Then, during the week of the RSC's visit, they will join the professional acting company for a rehearsal on the stage of the Theatre Royal Nottingham, before they face an audience for their public performances.