Theatre Royal & Royal Concert Hall wins prestigious Inclusive Tourism and Hospitality Award
Theatre Royal & Royal Concert Hall wins prestigious Inclusive Tourism and Hospitality Award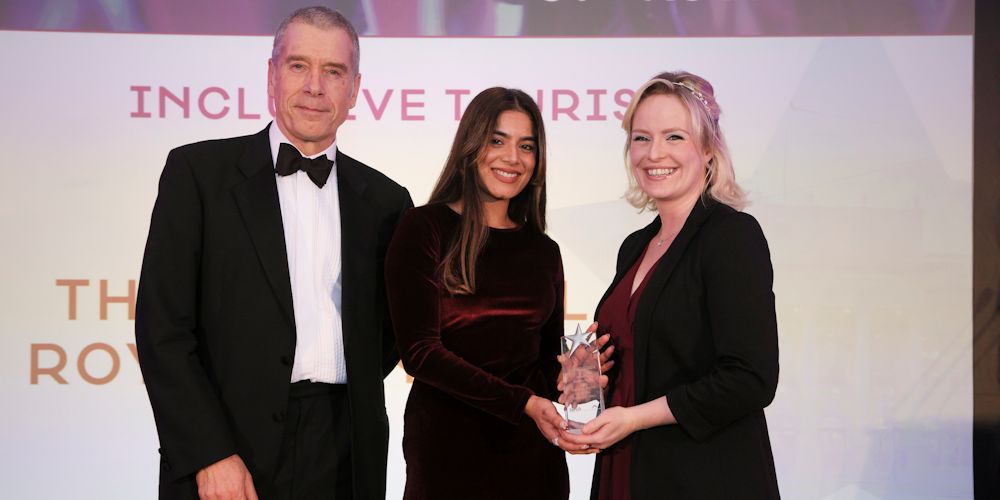 On Thursday 1 November, the Theatre Royal & Royal Concert Hall Nottingham won the Inclusive Tourism Award at the Nottinghamshire Hospitality STARS Awards 2018 
The awards ceremony took place at the Crowne Plaza in Nottingham, celebrating the achievements of Nottinghamshire's thriving tourism and hospitality sector, which employs over 22,000 people and is worth more than £1.8bn.  The awards were organised by Visit Nottinghamshire, the city and county's official tourism body, and produced in affiliation with the Nottingham Hospitality Association and the national VisitEngland Awards for Excellence.
Accessibility is at the heart of the Theatre Royal & Royal Concert Hall Nottingham's commitment to providing exemplary customer service.  The venue's Front of House and Access Development Manager, Emily Malen, and Conference & Events Coordinator, Gurpreet Bains, attended the ceremony to receive the Inclusive Tourism Award.
Emily Malen attributed their success to a whole team effort: "I have no doubt that we have won this award through the hard work and commitment of everyone at the Theatre Royal & Royal Concert Hall.  Every member of staff, from backstage, box office, creative learning, administration and front of house, is involved in the work we do to make our theatre and concert hall as accessible as possible.  To us, being 'inclusive' means ensuring all our visitors have a smooth and hassle free customer journey, from initial booking to coming along to enjoy the show.  We want all our customers to be able to participate equally, with dignity and respect.  We are committed to this as a whole organisation and this inclusive tourism award reflects the success of everyone who works here.  I couldn't be prouder!"
The Theatre Royal & Royal Concert Hall provide many additional services to support customers with a variety of needs, including mobility, dementia, sight and hearing loss, and autism.  The venue provides regular sign language interpreted performances, alongside captioned and audio described performances, a guide dog-sitting service, relaxed performances, information in alternative formats and a free access requirement register.  The venue provides regular staff training sessions to ensure that the venue continues to provide the highest standards of quality and care for all its customers.
Improvements to backstage areas and foyers made recently as part of the Royal Transformation Project include disabled lifts, toilets, and wheelchair accessible dressing rooms being added to the existing provision in both venues.
Brendan Moffett, Chief Executive at Marketing NG, said: "As the official destination marketing organisation for Nottingham and Nottinghamshire, we were delighted to showcase the quality of our amazing tourism and hospitality businesses who we are proud to have as members. The sector has grown significantly in recent years and we look forward to working with Visit England and our members to drive further growth. The Marketing NG team worked incredibly hard to make this event such a huge success and we look forward to doing it all again next year."
The Theatre Royal and Royal Concert Hall was also celebrated by Age UK this month and named as one of the best accessible attractions to visit in Nottingham – find out more Age UK's recommended 'Great Accessible UK Weekend Breaks' here