This is a past event and is currently no longer running.
Kiss of Death
Tuesday 6 July–Saturday 10 July 2021
Drama
Running time: 1 hour 15 minutes (no interval)
Important Information
Under 14s must be accompanied by an adult aged 18+
This event is part of our season of socially-distanced performances
Share This Event
Tabs Productions & Theatre Royal Nottingham presents The Colin McIntyre Classic Thriller Season 2021
Kiss of Death by Simon Williams
Actress Zoe Lang attends a most unusual improvisation workshop and finds herself auditioning to be the bait in a police plot to trap a real-life serial killer. Taking on the role of a young runaway, Zoe meets the sinister and manipulative John Smith.
With a hard-hitting storyline, this very modern thriller is packed with plenty of dark, sardonic humour to punctuate its mood of prevailing menace.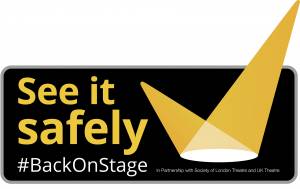 We have been See It Safely approved
We have been granted the use of Society Of London Theatre & UK Theatre's 'See It Safely' mark. The mark certifies that we are complying with the latest Government and industry COVID-19 guidelines, to ensure the safety of our staff and audiences. You can find out more about the measures we have been putting in place ready for your visit here, and what you need to know beforehand.
Flexible booking policy – for your peace of mind
If live performances are cancelled for any reason, we will contact you to outline your options, which will include a full refund. If you or anyone you live with/in your support bubble displays symptoms of COVID-19, or if you are required to self-isolate following Government guidance, please do not visit the Theatre Royal & Royal Concert Hall. Instead, call our Box Office team on 0115 989 5555 to request an exchange or full refund up to 24 hours before the performance you are attending. If the performance you are planning to attend is within 24 hours, please call the Box Office to discuss your options.
Royal Members
Tickets £22.50 on Tuesday 7.30pm performances, & £24 Wednesday to Saturday performances. Available in the Stalls & Upper Circle.

Under 26s
Tickets £24, available on all performances, in the Stalls & Upper Circle.
Multibuy
See all four plays for £90. Available in the Stalls & Upper Circle.
Concessions are not available in the Dress Circle or Balcony.