New Changing Places toilet coming to the Theatre Royal & Royal Concert Hall available to everyone
New Changing Places toilet coming to the Theatre Royal & Royal Concert Hall available to everyone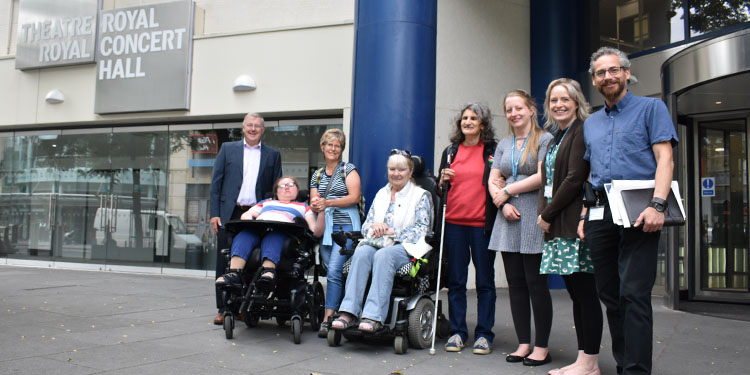 The Theatre Royal & Royal Concert Hall Nottingham are able to go ahead with a major improvement to their accessible toilet facilities thanks to almost £10,000 awarded to them by the National Lottery.
In addition to the venue's existing accessible toilet facilities, the new Changing Places toilet will meet the needs of people with profound and multiple learning disabilities, motor neurone disease, multiple sclerosis, spinal and brain injuries, cerebral palsy, as well as older people. To use the toilet in safety and comfort, the Changing Places toilet will have more space and equipment, including a height adjustable changing bench and a hoist.
Due to be installed on the ground floor of the Royal Concert Hall early next year, the Changing Places toilet will be available to everyone – to theatre customers and members of the public – at all times that the venue is open.
Emily Malen, the Theatre Royal & Royal Concert Hall's Front of House and Access Development Manager, said: "Everyone has a right to enjoy a night at the theatre or a trip into town without the additional worry of finding an appropriate toilet facility to meet their needs. Access for everyone is at the heart of what we do, so we are delighted to be able to offer the use of this Changing Places facility to anyone who needs to use it, not just to our customers."
The new funding from The National Lottery Community Fund, which distributes money raised by National Lottery players for good causes and is the largest community funder in the UK, will provide almost £10,000 to cover the cost of all fittings, furnishings, sanitary appliances and floor finishes within the project.
Beth Foden, who is looking forward to visiting the venue with her daughter Lowri, played a key role in highlighting the need for a Changing Places toilet at the venue.  She said: "We feel really excited that we can visit a venue like everybody else and stay there and not have to pop out to the nearest public toilet elsewhere.  We feel really pleased about that.  The nearest public toilet happens to be a Changing Places toilet on Greyhound Street, but I don't want to go there at night."